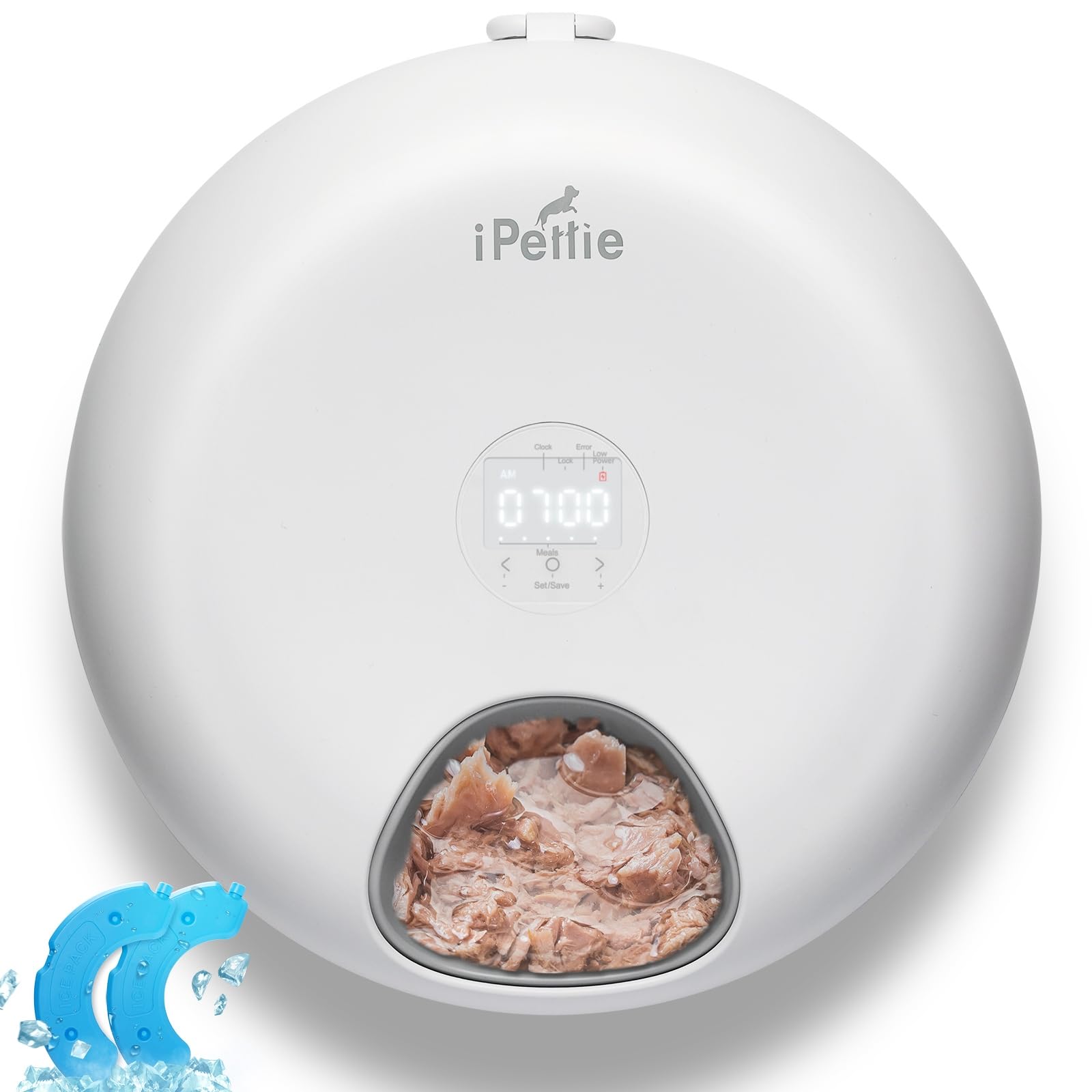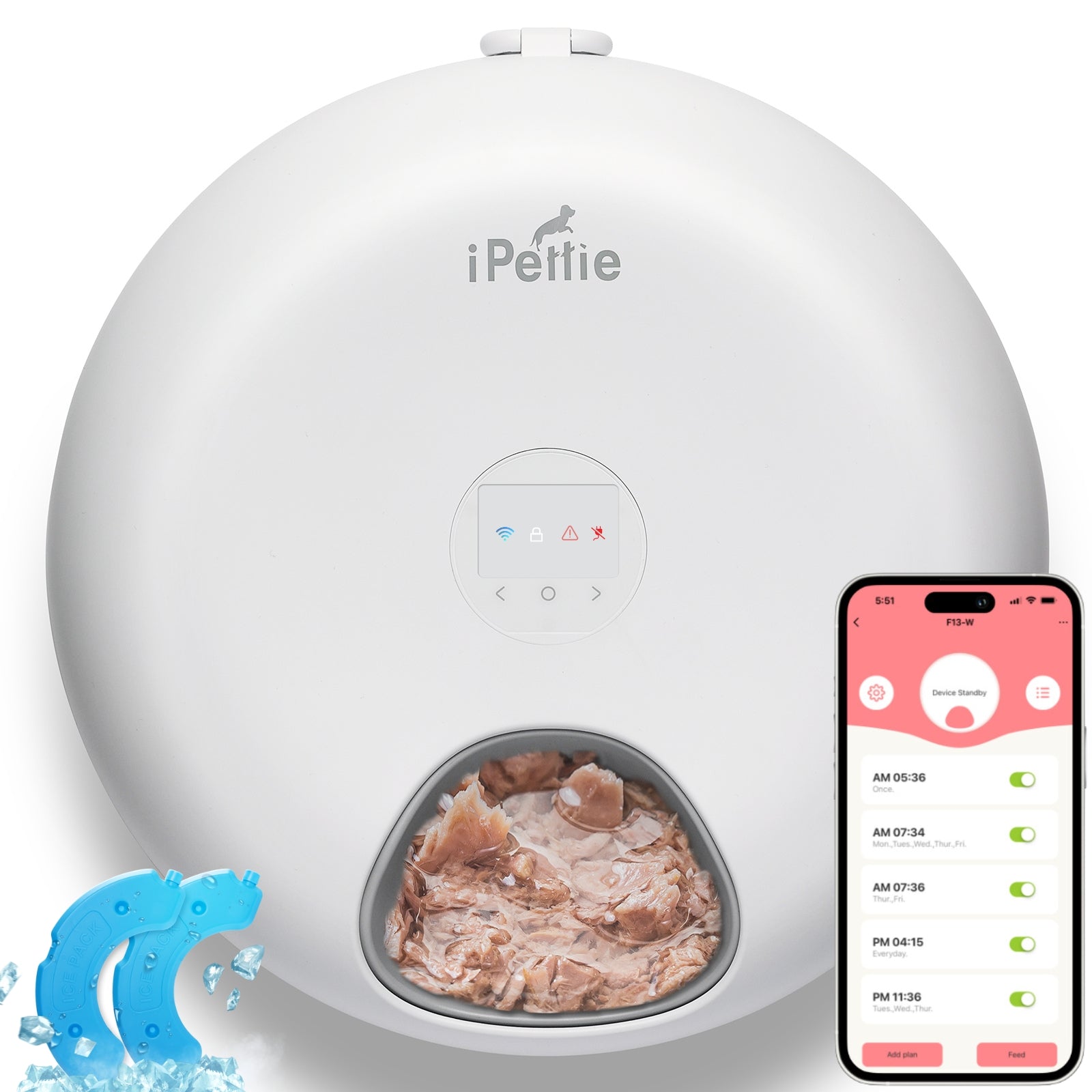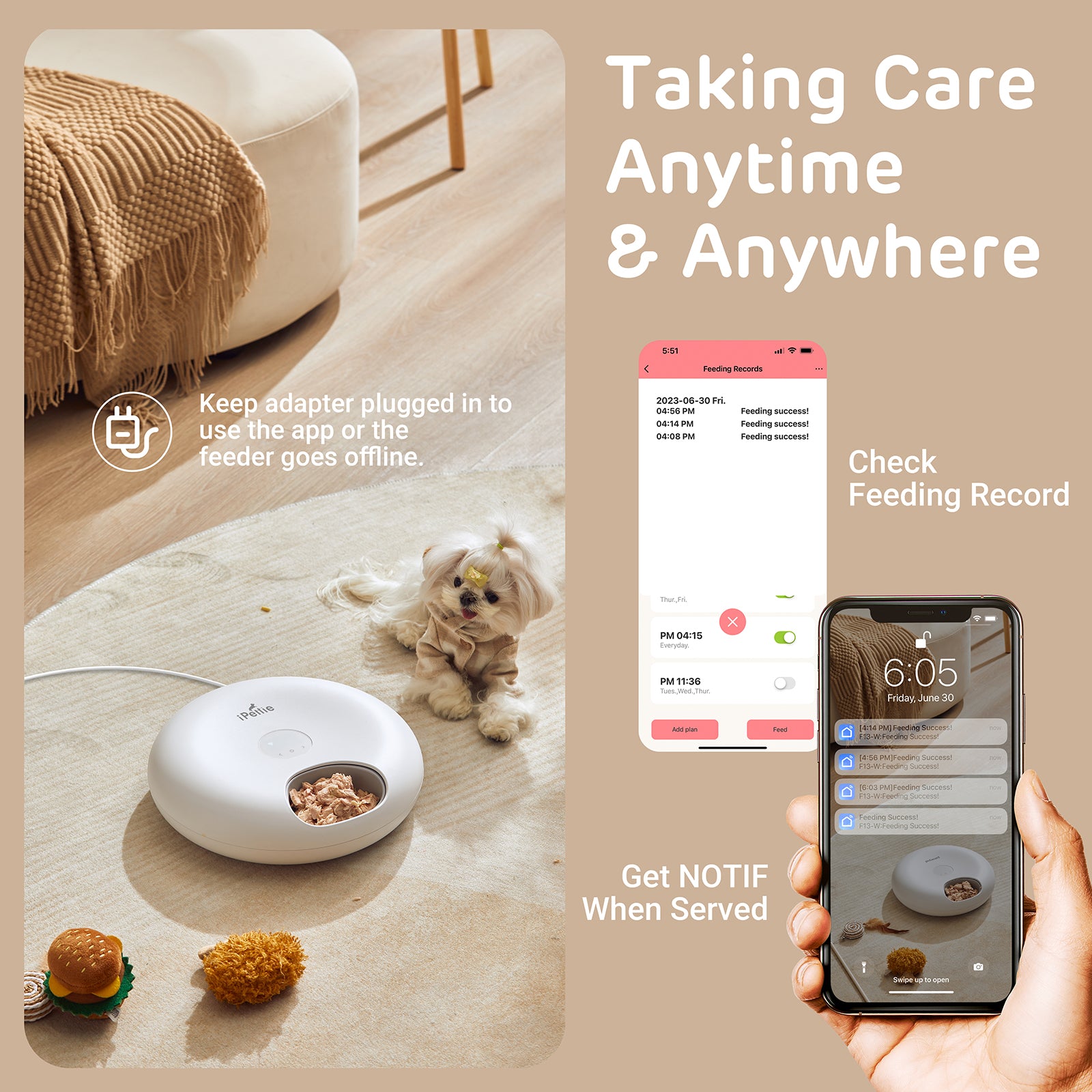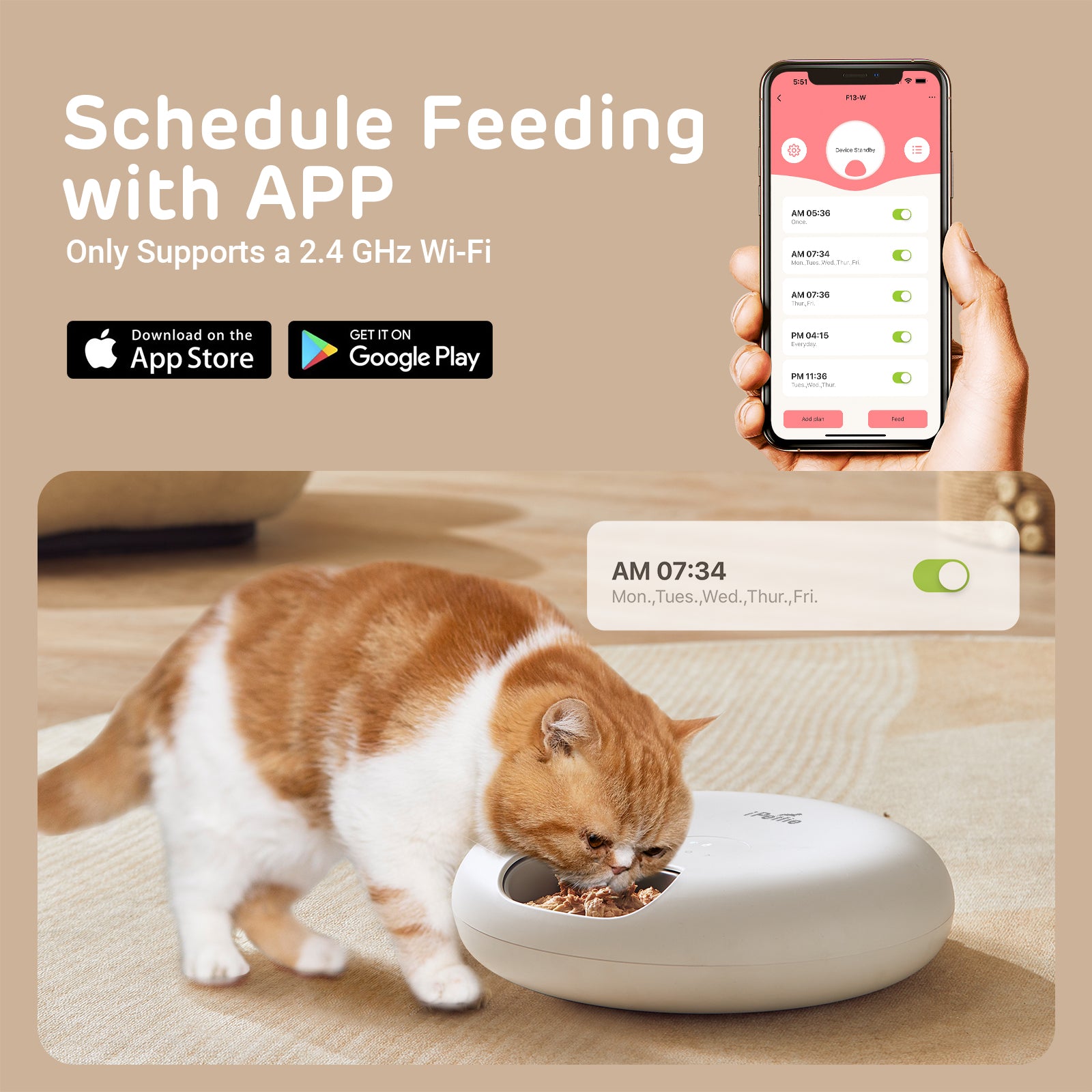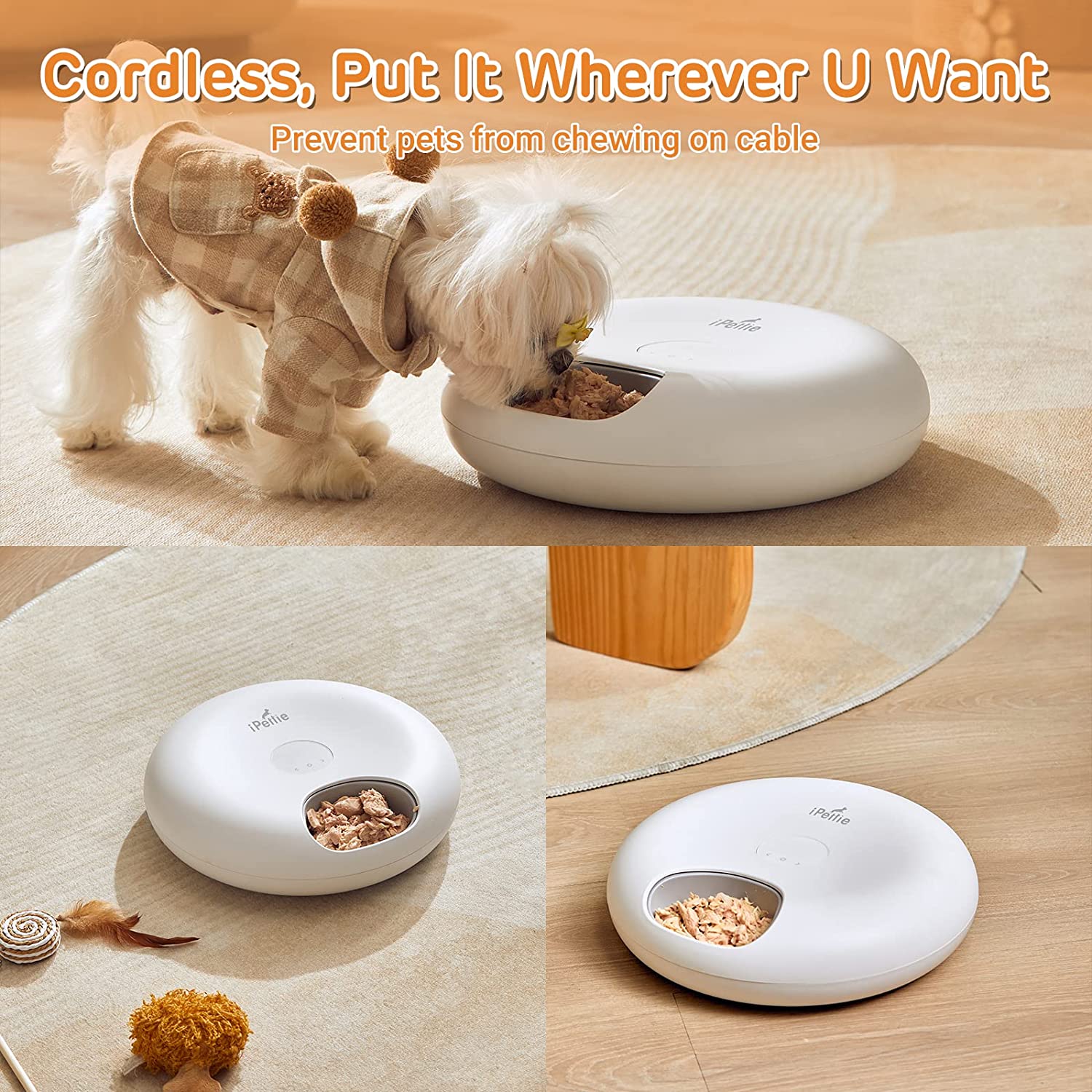 20% OFF
Donuts Frost 6 Meal Cordless Automatic Pet Feeder
💳iPettie accepts credit card & debit card payments with PayPal. Click the Paypal button at checkout page then you can switch to the credit card payment. 
Donuts Frost 6 Meal Cordless Automatic Pet Feeder
Keep it Cool and Fresh
Comes with two ice packs, which keep food fresh and make food last longer. The ice packs effect 6-8 hours.
6 Meal Automatic Feeder
This food grade, BPA-free ABS and dishwasher-safe food tray consists of 6 compartments, which cares for your pet's health. Each compartment holds 6 x ½ lb. of Food.
More Details
Worthwhile Purchase
My cat is on a wet food only diet for medical reasons. I work a 9-5 in-person so this is perfect for keeping his meals chilled and spaced out throughout the day.
I usually freeze the last 2-3 meals to make sure the freshness can last longer than the 6-8 freezer pack hours.
I've had this for around a month and the battery has yet to be recharged. It is very easy to clean and set the timings for, which it remembers and resets to the next day. Just read the instructions first.
The scoop wall design makes it easy for my cat to access all of the food so it doesn't get smushed into corners and stuck in the bowl. The rotating sound is barely noticeable though there is a soft beep that could prompt your pet.
There are additional ice pack inserts to purchase online if you don't have enough time (6 hours) to refreeze the ones it comes with. I haven't found a need for them yet.
This purchase makes life a whole lot easier. Highly recommend.
Great but could use improvements
Summary: Great product, but room for improvement.
Pros:
- Works great! Keeps my cat from waking me up at 4 a.m. to be fed and saved him from an irresponsible pet sitter who did not show up over a weekend away.
- Quiet tray rotation.
Cons:
- Battery indicator only shows when battery is low. There is no way to determine when it is fully charged or how much time is left before you need to plug in.
- Unable to see how many meals are left without removing the cover. A semi-transparent lid would be much better.
- Cooler packs don't say cold long enough for 5 stored meals. Only cold for 6 hours. So you have to open it and replace the cooler packs twice a day in order to keep wet food fresh.
Works great!
I've used it twice, for a single meal, worked fine. Setting times took a few attempts to get correct, but that may have been operator error.
Easy to set up!
My kitty took to this product right away! The dish size is a bit smaller than her regular low profile dish, but her face fits into it fine and she was able to eat almost every bit of wet food out of it. The feeder was easy to program but took almost a full day to charge completely. The ice packs keep the food cold for the day when I'm gone at work, I just wish that it came with an extra set of ice packs to change out from day to night. I sent a message to the company via the website about this and waiting to hear back as there is currently no option to purchase extras on their website or Amazon.