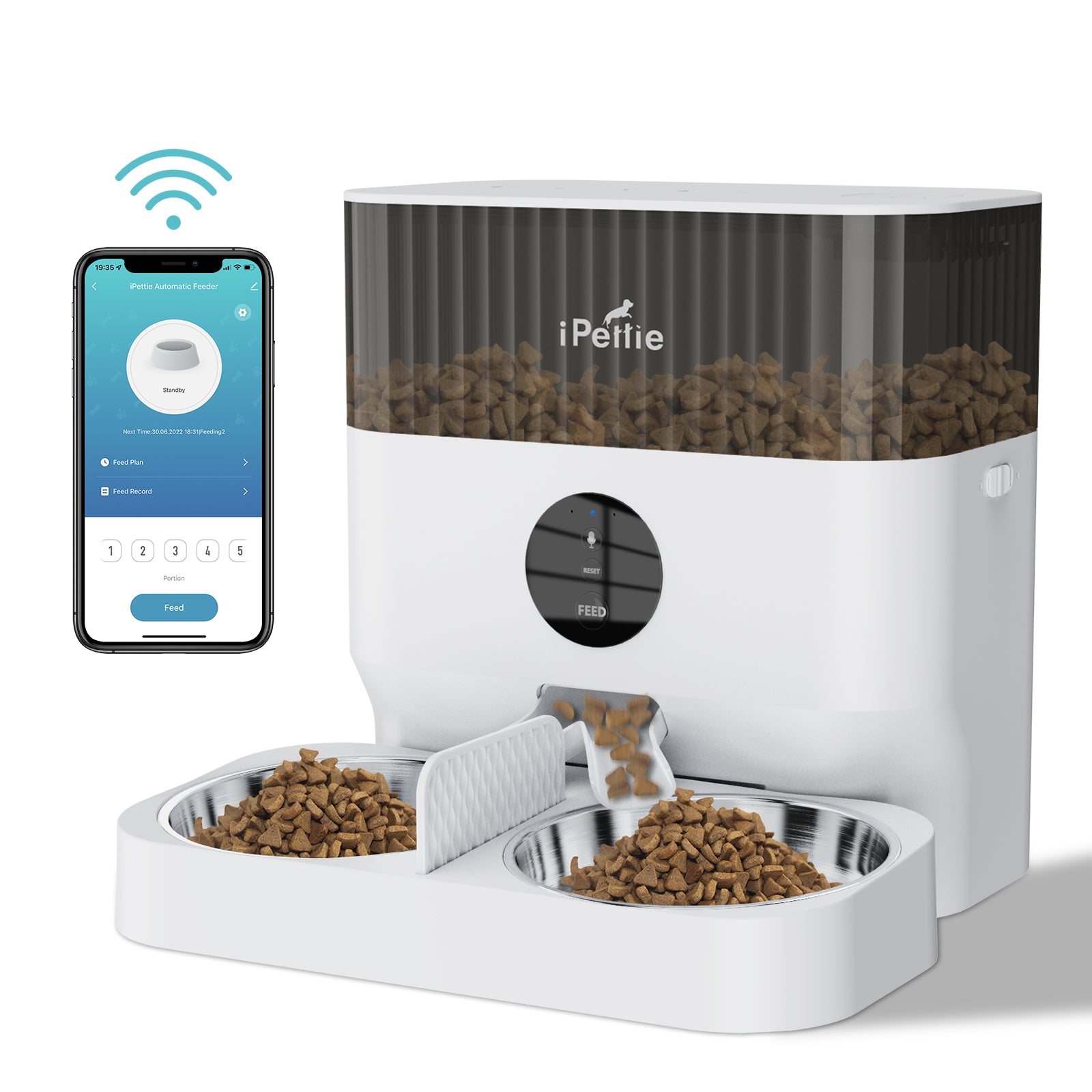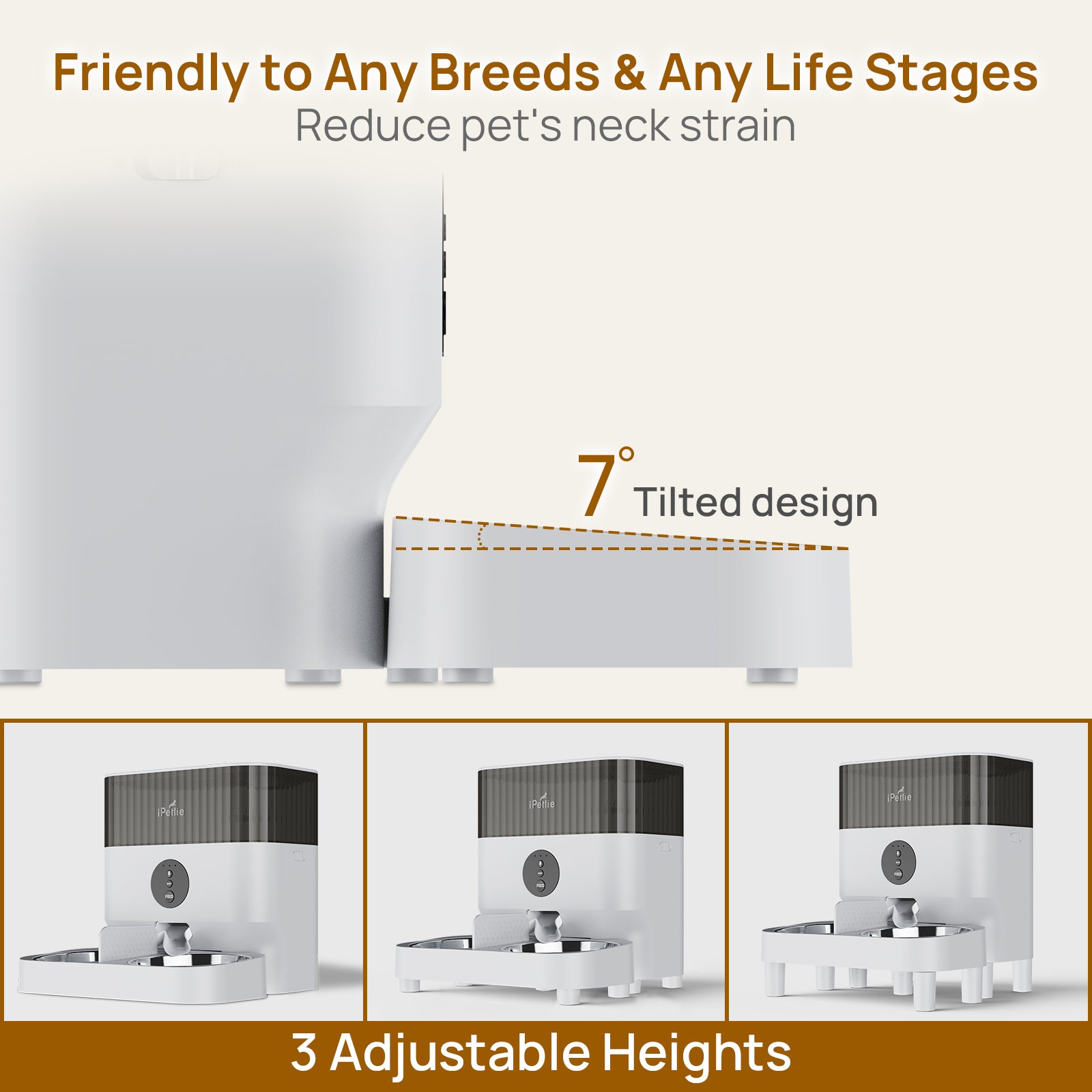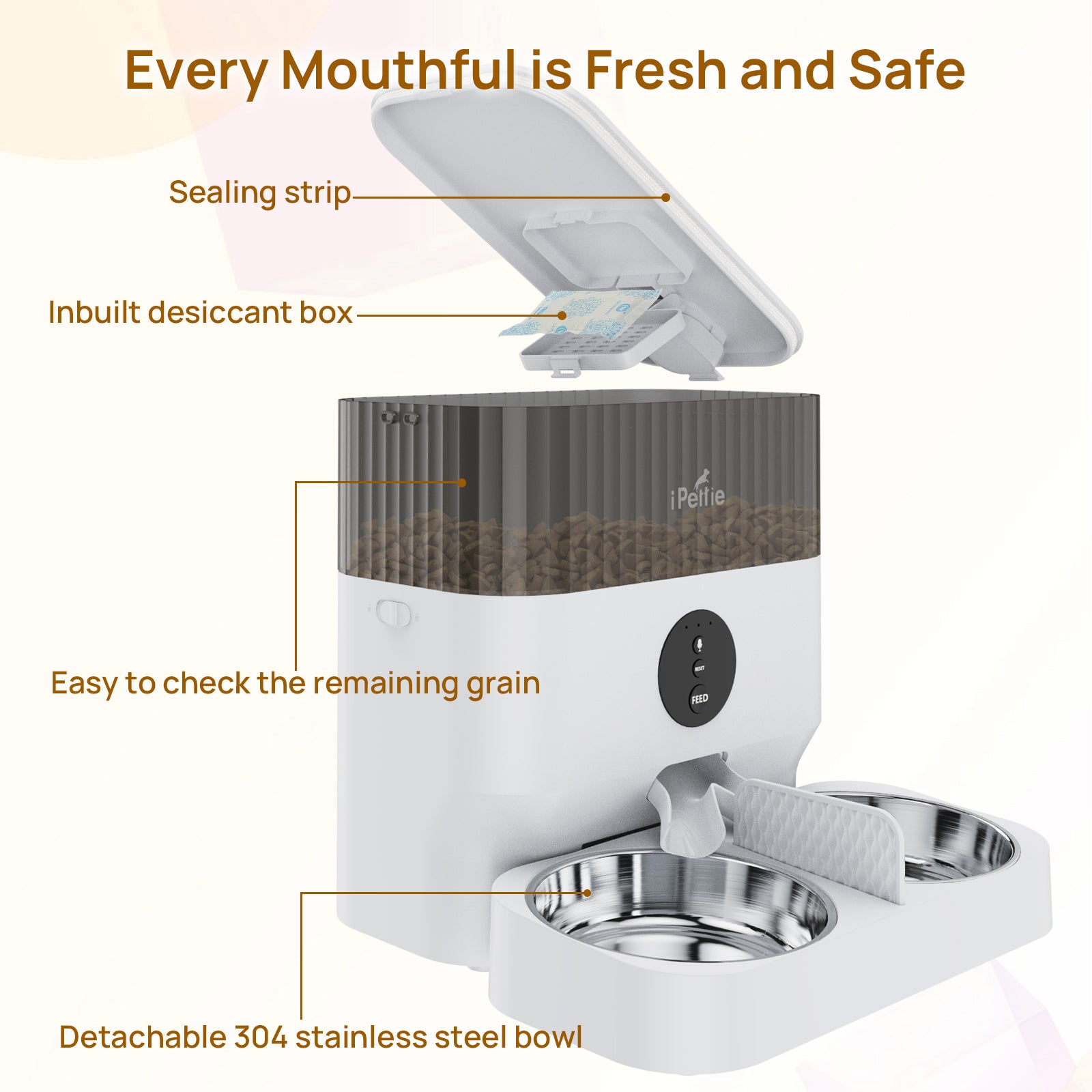 20% OFF
W5 WiFi Automatic Pet Feeder
💳iPettie accepts credit card & debit card payments with PayPal. Click the Paypal button at checkout page then you can switch to the credit card payment. 
W5 WiFi Automatic Pet Feeder
Product Features
App Control - Feed your pets anytime and anywhere from your smartphone. Set 1-10 meals daily with 1-12 portions per meal. Track feeding records or shares the device with multiple users. Supports a 2.4GHz network only.

Feed Multiple Pets - Come with a 170oz/5L storage canister and a 2-way splitter for two food bowls to divide meals equally and feed multiple pets simultaneously.

Increased Hygiene - Removable stainless steel food containers and bowls are durable and dishwasher safe. 

Anti-Clog Design - Equipped with a large torque motor, this automatic feeder solves the problem of food jams. Use ONLY dry or freeze-dried food between 0.12" and 0.51" (3mm-13mm) in size. Wet food will NOT work with this feeder. 

Friendly for Any Breed - The 7° tilted food tray reduces the next strain during feeding, while the 3 adjustable heights allow it to be customized for any size or age of the pet.

Two-Way Power Supply – The feeder is powered via a plug-in power adapter or 3 C-size batteries. (Batteries and adapter not included)
Bad quality
Broke in less than one year. Definitely would not buy another product from this company.
Great product and customer service
I love my feeder! It has helped my cats loose weight to a healthy level. When I had issues with the unit, customer service was very responsive!
Exactly what we were looking for!
We purchased the automatic feeder after moving into our new home and it has worked perfectly. The portion sizes are great, it's raised up for our old cat who needs the better angle, setting the time for feedings and getting the feeding history has also been so helpful. It's literally exactly what we were looking for and we're very happy.
Works great, until my cats figured out the button.
I love the feeder foe my two cats. One of them figured out how to paw at the feed button. Waking up after a midnight shift to find out they set the feeder off 15 times. We've tried to put tape over it with a small piece of cardboard bit they know it's there so now they chew off the tape and hit the button. Any ideas how to disable the button would be great. Other than that it works great and we love it.
Fantastic
Absolutely love this dual raised feeder from iPettie. The app is great and love the peace of mind my cats are.getting meals when I'm not home